Dear Regular (and those not so regular)Readers,
Welcome to this week's edition of our newsletter and I hope it finds you fit, healthy and prepared for whatever life has to throw at you over the coming weekend and beyond.
As promised, I am attaching some pics of my banana bread making escapades the week before last; without blowing my own trumpet too much I think the result pretty much speaks for itself. I do recommend you try making this banana bread as it is very moist, not too sweet and well worth the bake. It is not my own original recipe; I found it on the internet, it's actually from an article I read in the Guardian online. A lady by the name of Felicity Cloake who is a food journalist for the Guardian online newspaper regularly researches different recipes for desserts, cakes, and main dishes from various parts of the world; she compares and contrasts various famous chef's takes on a whole array of different types of food and she chooses the most suitable recipe that suits her taste. I think she does a pretty thorough job I often go to her articles for ideas for recipes; I have to say that for the most part I get good results and the banana bread recipe is certainly one of them. Please see the recipe as follows:
Banana Bread Ingredients
350g ripe bananas (peeled weight) / 180g plain flour, plus extra for the tin / 2½ tsp baking powder / 1 tsp salt / 160g soft, light brown sugar / 2 eggs, beaten / 4 tbsp melted butter, plus extra to grease, slightly cooled / 50g walnuts, roughly chopped
How to make
1. Preheat the oven to 170C. Put two-thirds of the peeled banana chunks into a bowl and mash until smooth. Roughly mash the remainder and stir in gently.
2. Sift the flour, baking powder and salt into a bowl, and grease and lightly flour a baking tin about 21x9x7cm.
3. Put the sugar, eggs and melted butter in a large bowl and use an electric mixer to whisk them until pale and slightly increased in volume. Fold in the bananas and the dry ingredients until you can see no more flour, then fold in the walnuts.
4. Spoon into the tin and bake for about an hour until a skewer inserted into the middle comes out clean. Cool in the tin for 10 minutes before turning out on to a rack to cool completely.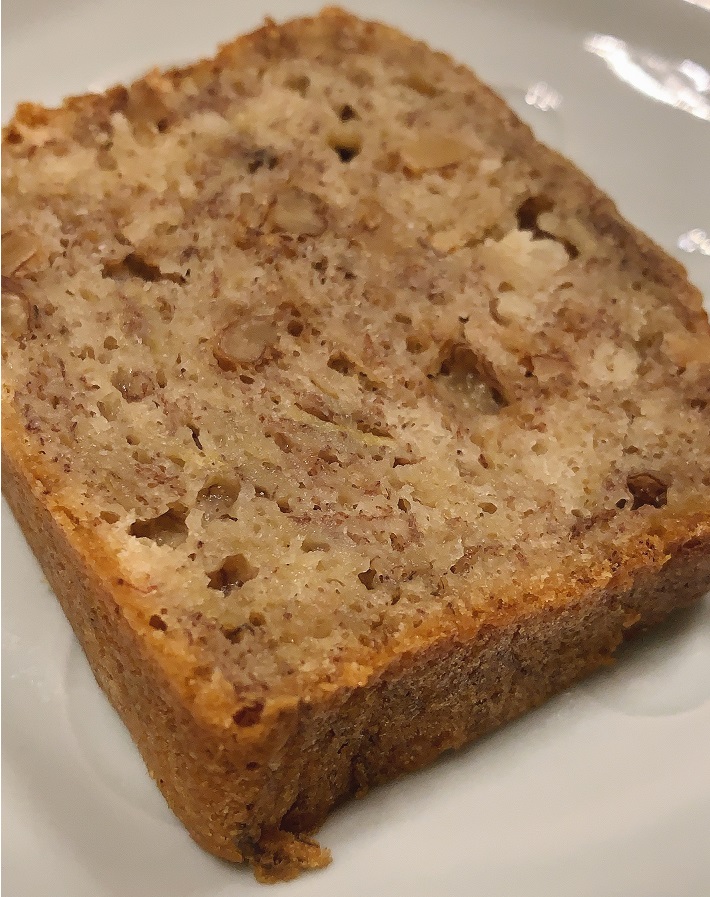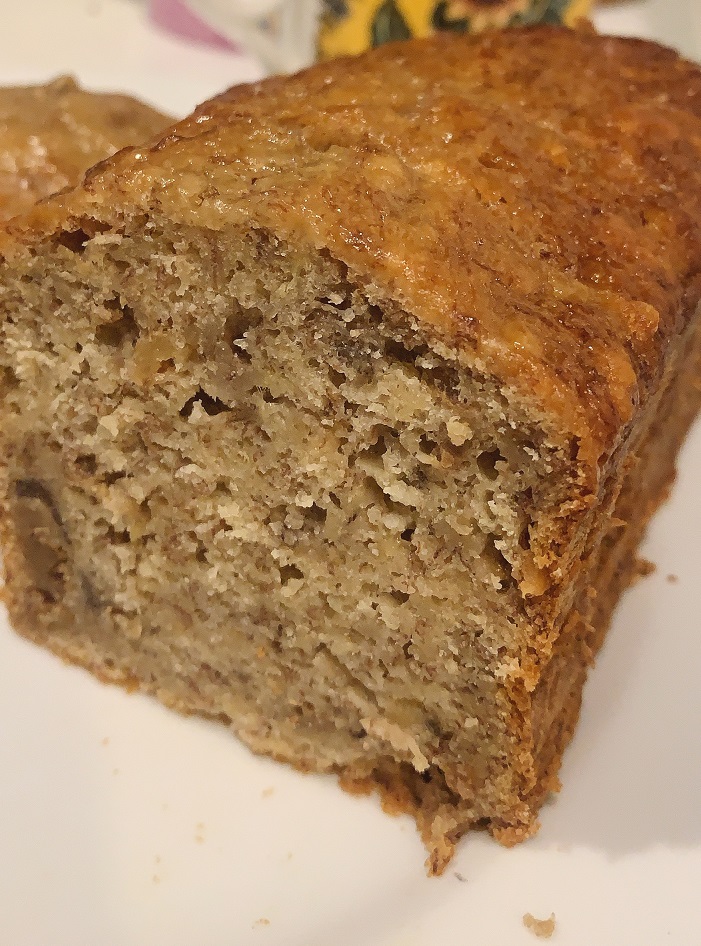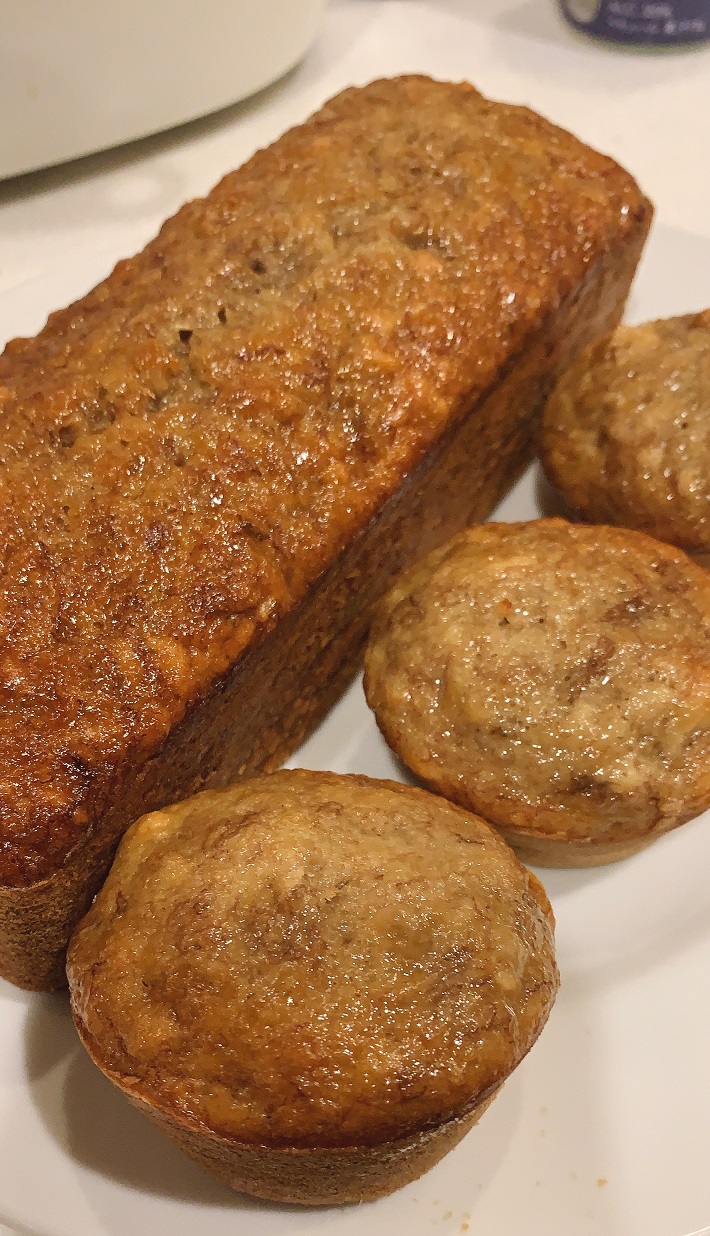 An without further ado, here's the next and possibly final installment of my ongoing knee story ………
I am now with brand new glasses and I can see better than ever, that is until the psychological effect wears off, so where was I in my story? Oh, I was at the point of leaving the doctor's surgery with an appointment to return in two weeks to report back to him as to whether or not a miracle had been performed and all the fluid in the bursa had disappeared. The doctor gave me the date and time of my next appointment and told me to try praying for that miracle to happen; with his hands together pointing to the sky in praying fashion he wished me well and off I went. I was under no illusions at all to think that continuing on with my self-treatment plan to see if the progress I felt I had made up to that point would continue on, but we can all live in hope, can't we? I'm not one to give up on anything without exhausting absolutely all possibilities, as I'm sure you've already gathered, so praying for that miracle to happen seemed like an option worth continuing to explore.
The next two weeks went by pretty quickly and although I had continued on with my self-treatment I could see little to no change in my condition which wasn't altogether a bad thing, my knee looked much less swollen, but of course the bursa was still inflamed and as my condition had already been diagnosed as chronic it seemed I was just kidding myself that things would improve without any intervention. There was no way I could continue on living my life with a swollen knee even if it was much improved after being under the care of the current doctor; the current was all for trying another hydrocortisone injection just to see if that extra short would reduce the swelling of the bursa further whereas I was very skeptical and as such my mind was again wandering over to having the operation that the doctor was hoping to avoid performing.
It is interesting to note that after removing the crepe bandage and elasticated supporter after having both on all day my knee would at first appear to be normal, it actually felt and looked as if I had no problem at all. However, it was just temporary as all that had happened was that the fluid had been compressed and sort of pushed back flat behind the bursa (courtesy of the bandage and supporter) and into a sort of void or pocket of space and once fluid entered back into this space my knee returned to looking swollen again. I was, as I had been many times during this journey, carrying a feeling of great despair, I knew I couldn't go on like I was as it was affecting me on quite a few levels, but I was still holding out for that miracle to happen.
2 days prior to going to hospital for my next appointment I refrained from bandaging up my knee, I just left it as it was so the doctor could see it in its natural state. Through leaving off the bandages for 2 days I realized that although my knee was much improved it wasn't as improved as I had been telling myself it was. Due to the fact that I had been bandaging it up every day all I had been doing was keeping the fluid compressed and as soon as the bandages were removed the compression was lost and the fluid would gather again at the front of my kneecap. In actual fact, when I looked at my knee after not wearing compression bandages for 2 days I started to question whether or not there had actually been any improvement at all. I made my usual way to the hospital in a taxi and then trod the familiar path to the orthopedic ward where as usual I sat waiting outside the doctor's surgery looking at the monitor on the wall for my number and at the same time listening for my name to be called out.
This day was like any other day I had previously visited the hospital, at least that's what I thought at the time. My name was eventually called out and in I went to see the doctor; after going through the usual routine of exchanging pleasantries and explaining to the doctor that no miracles had taken place up to that point the doctor again looked at the knee and asked me if he could try one more aspiration and one more hydrocortisone injection. I told him that I was pretty much at my wits end and I was more thinking of going the operation route which I was hoping to discuss this with as I now felt nothing else would solve the issue; however, the doctor insisted on one more try and after some further conversation I ended up giving in and letting him aspirate and inject some more hydrocortisone.
In past times the hydrocortisone injection had been painless, but this time it was different, the doctor seemed to push the syringe in quite deeply and he injected in 3 different areas of the bursa, meaning he withdrew the syringe 3 times and gave me 3 separate injections. He then plastered and bandaged up the area and told me to see how it goes on for a couple of weeks and then return to see him. Leaving the doctor's surgery on that day I felt more pain than in previous times and visually, after having the aspiration and hydrocortisone treatment carried out, my knee looked a lot redder than it had done on previous occasions; I could sense something may not be quite right, but little was I to know what was in store for me.
I decided to take a taxi back from the hospital to my office and during the time I was sitting in the taxi I could feel pain in my knee, it felt very sore and upon removing the plaster and bandage I could see that the fluid in the knee appeared to be more than it had been prior to the doctor aspirating and injecting hydrocortisone and I couldn't help but feel that in having this recent treatment carried out it had been a mistake, all it had done was exacerbate my condition. By the time I got back in to my office the fluid in my knee had built back up again to the point where it was worse than ever and I just felt like sitting down and having a good cry, but instead I iced up my knee and thought about what to do next.
Looking at my situation with some concern, my brother Graham (whom I work with) suggested that it might be a good idea to pay a visit to see a chiropractic that he sometimes visits to see what he had to say about my condition. I dismissed his suggestion at first thinking it would not do any good, but then after giving it some more thought I figured what the hell, I don't have any other ideas at hand, so I made contact with the chiropractic and I made an appointment for a consultation.
In the days leading up to my consultation appointment my knee was starting to get quite painful, it was constantly throbbing and angry looking and it was also beginning to become warm to the touch, it was visibly more swollen. I was back to icing my knee up during my time at home which provided some relief from the pain, but it didn't do much for the swelling. Also, I was beginning to feel some irritation on the front of the knee cap which was leading me to scratch it and as result of this small spots were beginning to appear on the actual kneecap. Another strange sensation I was feeling was a kind of painful itchiness, but at that time I was not sure what this was an indication of, as it turned out it was a very serious and dangerous issue in the making.
I visited the chiropractic and after looking at the knee he confirmed (through bringing out and showing me a picture in a medical book he had) what I already knew which was that I had a prepatellar bursa issue that was at a chronic stage. He suggested that I allow him to apply some massage treatment to the knee and surrounding areas and also some pulse type treatment directly to the knee and after that treatment he told me that it would probably just be a matter of time before the bursa healed on its own. I went along for the ride, but I was not convinced that what I was going to have done to me would make any difference at all.
I had an hour's worth of treatment to begin with which seemed to focus more on massaging the whole of my body rather than the problem area and when I enquired why I was having a full body massage I was told that because certain parts of my body were stiff this may well inhibit the blood flow and as a consequence prevent the bursa in the knee from recovering. Although I was very skeptical, I made another appointment to go a few days later for some more massaging and pulse treatment. I found the pulse treatment to be quite uncomfortable and I had difficulty enduring the pain that the pulsing tool was directing to the bursa, so a stopping and starting approach had to be taken to allow me to go through this part of the treatment.
I honestly felt no better at all after receiving my two sessions of chiropractic treatment, my knee was now very warm to the touch, it was swollen and painful and itchy at the same time, plus I had a kind of rash over the entire surface of my knee; something was not quite right and I knew I had to return to the hospital pronto. I have attached a couple of pictures showing how my knee looked at this time. To be continued next week. Keep safe and well until then.